summary
Doha Hamad International Airport has been named the top shopping airport by Skytrax Awards.

Istanbul Airport took second place in the Skytrax Awards and is home to a wide selection of luxury stores.

Kuala Lumpur International Airport is known for its cheaper duty free shops compared to other airports.
Like it or not, shopping has become an important part of airports and the travel experience. The concept of duty free was introduced with the expansion of international travel, giving passengers the advantage of being able to purchase certain goods without paying certain taxes or duties (when the goods were on their way out of the country).
Airports around the world are full of great duty-free shopping opportunities. We selected the following five because they were highly rated in some way. Feel free to point out and discuss others in the comments section.
1
Doha Hamad International Airport
Won top spot at Skytrax Awards
There are many airports around the world that are perfect for shopping. Most major hub airports offer a wide range of standard duty-free shopping, including alcohol, cosmetics, tobacco products, perfumes and electronics. It is also home to many luxury and luxury brands that are keen to market to international customers.
It is difficult to distinguish between such airports. This is because they differ in standard product assortments, luxury product availability, prices, and shopping environments and experiences. The Skytrax Awards is an annual recognition process that recognizes airlines and airports in a variety of categories. Since this is a passenger-voted reward system, all these elements are implicitly included. In 2023, Doha Hamad International Airport (DOH) was ranked top for shopping.
Photo: Gagliardi Photography | Shutterstock
Doha Hamad International Airport is a large facility with one main passenger terminal. This setup makes shopping easy as all passengers have access to all shops and brands. Airports with multiple terminals (such as London Heathrow) can struggle with this as not all brands are available to all passengers.
The main terminal has 40,000 square meters of shopping and dining space. In addition to a wealth of standard duty-free options, Qatar Airways has a dedicated exclusive area below the first class lounge. Here you'll find brands like Chloé, Dolce & Gabbana, Emporio Armani, Jimmy Choo, and Fendi.
2
istanbul airport
2nd place in Skytrax Award
Following the Skytrax award, passengers have voted Istanbul Airport the second best airport for shopping in the world. This is impressive for a new airport. Like Doha Hamad International Airport, the new Istanbul Airport has one large main terminal. This ensures that all shopping options are available to all passengers. A real bonus for people who love shopping.
The new airport offers a huge amount of space within the terminal. According to the airport, the main duty-free area (operated by Unifree Duty Free Store) has a sales area of ​​55,000 square meters. This includes 18,000 square meters dedicated to luxury boutique stores. International luxury retailers include Bvlgari, Dior, Louis Vuitton, Prada and Gucci.
There is also a large (3,000 square meter) bazaar-style area selling traditional and luxurious Turkish products, gifts and souvenirs.
3
Singapore Changi Airport
3rd place airport in Skytrax Awards and great airport experience
Singapore Changi Airport often comes up in discussions about the best airport to spend time in. It offers an exceptional airport experience, with plenty of greenery, leisure facilities and, of course, shopping opportunities.
Changi Airport is a multi-terminal airport, so your shopping options will depend on which terminal you use. However, unlike some airports, you can usually transfer between terminals (if you have time) regardless of which terminal your flight departs from. To help you with your personalized chops, Changi Airport is one of many airports that offers shopping assistance, known as Shopping Concierge.
The airport is also home to the stunning Jewel, a new building that opened in 2019. This is a separate facility from the departure terminal, so anyone can access it. As such, although there are no duty-free items, it still offers a wide range of unusual shopping options. Jewel isn't just about shopping. It is a beautiful facility with a variety of cafes, restaurants, hotels, extensive indoor gardens, and the world's largest indoor waterfall, the Rain Vortex.
As well as a wide range of duty-free and luxury brand products, Changi also offers unusual shopping perks such as:
Pokemon Center – As you might expect, Pokemon-related merchandise is available.

In Good Company provides luxury haute couture from Singapore.

Sift & Pick offers popular Korean fashion K-style clothing, bags, and other accessories.
Four
london heathrow airport
In 4th place is Skytrax, which has a lot of 'UK' shopping options.
Once you're based in Europe, it's no surprise that the region's busiest airport is also one of the best for shopping. As well as being an important destination in its own right, London Heathrow Airport has long been a major hub airport. Therefore, it attracts some leading brands.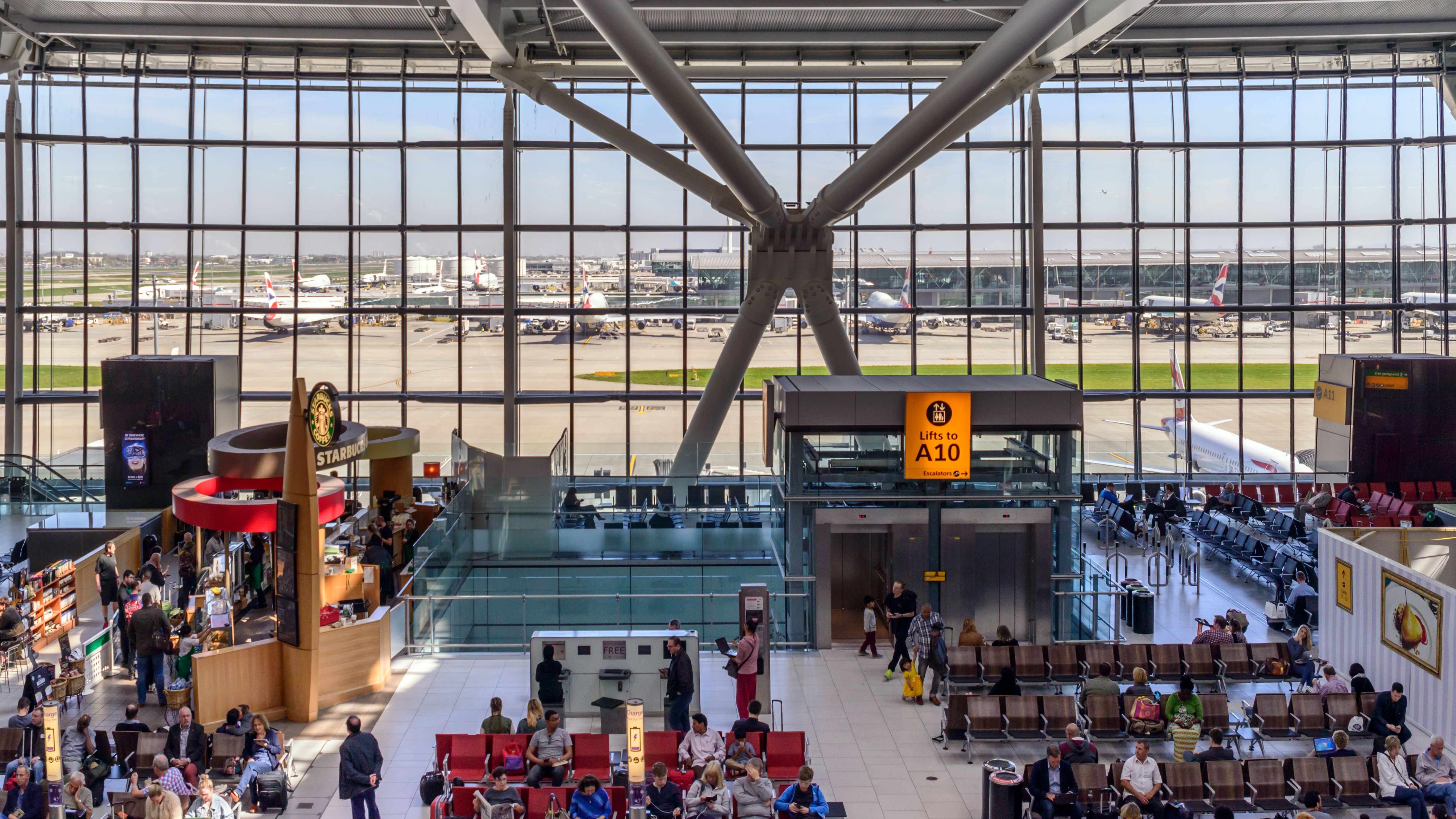 Photo: Alexandre Rotenberg | Shutterstock
Heathrow Airport is the first airport on this list that is actually an independent multi-terminal airport. Therefore, passengers can only access the stores within the departure terminal (there is no option to enter other terminals when departing or changing flights). British Airways' flagship terminal, Terminal 5, is home to many luxury retail brands including Burberry, Chanel and Louis Vuitton.
Heathrow Airport also has some great 'British' shopping options, including the famous Harrods Store outlet, the Fortnum & Mason Shop, the Harry Potter Store and plenty of options for buying London-themed souvenirs.
Five
Kuala Lumpur International Airport
Rated as the lowest priced duty free shop
As a final shopping option, let's move away from the Skytrax perks and point out one other airport. Although Kuala Lumpur International Airport is not included in Skytrax's top 10 shopping airports for 2023, it is recognized as the cheapest airport. This is important. The idea of ​​duty-free shopping is that it should be cheaper than shopping elsewhere.
A 2019 study by travel website The Points Guy (results cited in Forbes) compared the prices of 13 items at 50 airports around the world. They found that prices for the same product can vary by up to 30% between airports.
Kuala Lumpur International Airport was ranked as the cheapest airport (Greece's Santorini Airport was the most expensive). We carry luxury brands such as Bvlgari, Coach, and Michael Kors.
We have introduced five shopping experiences at the airport. Feel free to discuss others in the comments section below. Everyone has their own favorite!