Boris Johnson has made a surprise visit to Israel as former Prime Minister Boris Johnson blames Hamas terrorists for the group's "horrific" attack on October 7.
Mr Johnson, 59, who last week announced he would join GB News in the new year, met with British-Israeli soldiers in Jerusalem alongside former Australian Prime Minister Scott Morrison.
---
The pair will meet with Israeli President Isaac Herzog and relatives of about 200 hostages, just weeks after 1,400 people were killed by Hamas terrorists.
The former prime minister, who resigned from parliament earlier this year following a party investigation by the Privileges Committee, said:
Watch now: Nigel Farage talks about Boris Johnson joining GB News
"I want people to understand, on behalf of freedom-loving people around the world, the obligation of Israelis to protect themselves and fight terrorism. I think that's important. ."
"When it comes to long-term solutions to security issues, I'm sure all that to your point of involving the UK and other Western democracies…that's a legitimate subject. For consideration.
"But now we face the urgent task of dealing with a huge terrorist threat, and Israelis need to address it."
Prime Minister Scott Morrison, who lost the recent Australian general election to Labor's Anthony Albanese, said: "I am honored to have been given the opportunity to visit Israel with former Prime Minister Boris Johnson to show solidarity with the people and state of Israel and with the Jewish people." I am grateful." communities around the world."
Former British Prime Minister Boris Johnson and former Australian Prime Minister Scott Morrison visited Kibbutz Kfar Aza in the wake of an attack by Hamas militants in the Gaza Strip in October.
Reuters
It added: "This is about understanding first-hand what is happening on the ground, paying tribute to those who died, showing support to those who have suffered and are currently caught up in this terrible conflict, and how we can move forward." This is an opportunity to discuss this," he added.
The pair, who were key to the AUKUS agreement on nuclear submarines along with US President Joe Biden, also visited a kibbutz.
Prime Minister Boris Johnson and Prime Minister Scott Morrison's visit came after Rishi Sunak arrived in Tel Aviv on October 19.
Hamas' attack on Israel on October 7 was one of the bloodiest in living memory.
Israeli Prime Minister Benjamin Netanyahu then vowed to "suppress" the terrorist organization.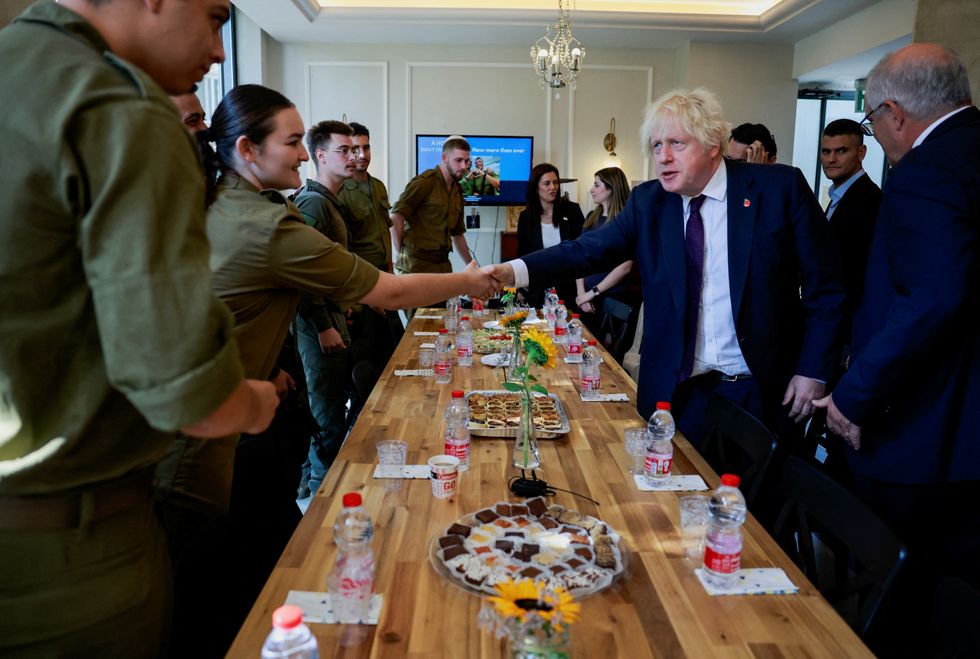 Former British Prime Minister Boris Johnson and former Australian Prime Minister Scott Morrison meet with British and Israeli soldiers during visit to Jerusalem
Reuters
More than 9,000 Palestinians have been killed in the air onslaught and ground invasion in Gaza, the Hamas-run health ministry in the strip has announced.
The issue has divided Sir Keir Starmer's Labor Party, with around a dozen shadow ministers backing a ceasefire.
Mr Sunak was forced to sack his parliamentary private secretary Paul Bristow after Peterborough MPs joined calls for an end to the violence.
But the Labor leader refuses to immediately sack front-line MPs, even if it goes against his own position and the principle of collective responsibility.
A spokesperson for Prime Minister Boris Johnson said: "Former British Prime Minister Boris Johnson and former Australian Prime Minister Scott Morrison jointly visited Israel to express solidarity and support for Israel in the wake of the horrific terrorist attacks on October 7. "